Inman recently posted an article by Laura Ure called, "6 egregious mistakes real estate agents must stop making". It's a great article, and provides a list of things that real estate agents need to stop doing if they want to be successful.
I'm not going to discuss all of the mistakes listed – you can read the article yourself if you're interested – but I'd like to focus on mistake #2: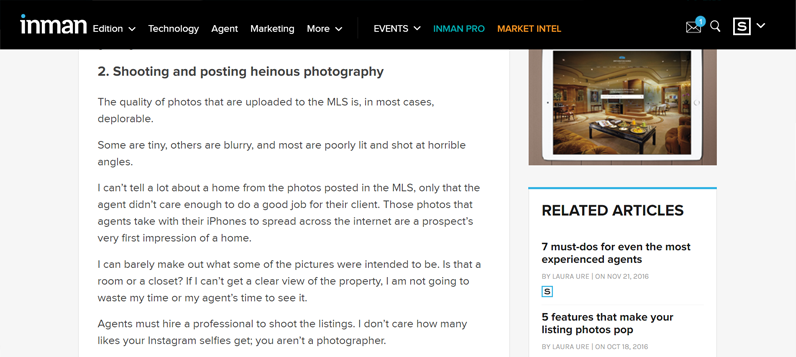 I think the key statement in there is this one:
"… the agent didn't care enough to do a good job for their client."
The agent didn't care. They are being paid thousands of dollars, and yet they don't care enough about the client and achieving the best possible result for that client to bother booking the best real estate photographer in their area to photograph the property?
It's no wonder some people get so frustrated by their real estate agent. As Laura notes at the bottom of that section:
"Agents must hire a professional to shoot the listings …"
And why is that? It's because:
"… you aren't a photographer."
A lot of real estate agents get frustrated by home owners who do a For Sale By Owner (FSBO) because they say that an owner is not experienced enough in property sales and negotiating that they leave money on the table when it comes to their sale price.
As the real estate agent in the video below points out, when home owners use a real estate agent:
"You get a better price for your home … and you net more dollars, even after the agent gets paid, and you have a smoother, better experience selling the house."

"A good professional agent will be able to let you know upfront: these are some things you need to look out for … these are the things to do to make it show better to get you a higher price.
… and I can't emphasize this enough: statistics show you get a better price net to yourself as a seller if you use an agent to list your home."
They make some good points there, but what's interesting is that all of those points on statistics and getting a better sale price also apply to the hiring of a real estate photographer. So if the benefits of hiring someone who specializes in their role, such as a real estate agent, is effective then surely hiring a photographer who specializes in creating images that help sell homes is also going to bring a better result, as highlighted in that article at Inman.
Here's another one where this fictional discussion highlights the frustration an agent feels when trying to have a conversation with a homeowner who wants to sell their home themselves just to save a few dollars on commission, not recognizing the points made by the real estate agent that they will not actually be ahead financially if they do a FSBO:
Surely this applies in the same way to agents who try and keep a few extra dollars in their pocket by not bringing in a top quality real estate photographer?
For the real estate agent trying to decide if they should hire a photographer:
If you're a real estate agent and you're not sure if you should bring in a professional photographer for your next listing, why not ask your homeowner why they hired a real estate agent instead of trying to DIY their home sale, and then think about why you might want to hire a professional to take care of the photographer for that homeowner.