Sydney real estate photographer: Love Space Photography
---
Estefania Turner from Love Space Photography in Sydney, NSW, has been a real estate photographer and an architectural photographer for over a decade.
Estefania loves nothing more than crafting visuals of the highest quality to their clients, images that attract more traction and a fantastic return on investment for every Architect, builder, interior designer, real estate agent, property manager and business owner she works with.
Love Space photography is based in Sydney and covers the entire metro area. Most of their work is around the inner west and the eastern suburbs, although they are willing to travel further throughout central coast, Blue mountains area and Southern Highlands though of course extra charges will apply.
Our ideal clients:
Real Estate Agents
Builders
Architects
Restaurants
Hotels
Property developers
Get in Touch with Love Space Photography
---
If you would like to speak to Estefania from Love Space Photography you can call her on the phone numbers listed below, or fill in the contact form and she will get in touch with you as soon as she can.
Hours
---
Monday – Friday 9am - 5pm 
Saturday By appointment only
Sunday By appointment only
---
Social Media: Love Space Photography
---
What areas do we cover: Sydney, New South Wales
---
An interview with Estefania Turner
Tell us a little about yourself.
I'm a photographer and visual Artist  based in Sydney, Australia who specializes in photographing interiors, architecture and real estate; I took my first photo when I was 6 years old and the rest is history. I also have a music and film obsession.
I was born in Bogota, which is Colombia's beating heart: an engaging and vibrant city surrounded by chilly Andean peaks and steeped in sophisticated urban vibes. While doing my BA in visual Arts  I was lucky enough to meet a number of amazing teachers who opened my eyes to the world of art, design and photography; this would have a strong impact of my life in endless ways than I could ever have envisioned.
In 2008 my passion for travel and adventure brought me down under; After studying Visuals arts and design at the Australian Catholic University and photo imaging at Tafe,  I found myself taking up an offer to photograph homes and signed a contract as a contractor for Airbnb, becoming one of their official Sydney photographers in 2012 . This opportunity turned out to be the perfect field.
How would you describe your photographic style?
Editorial, Warm, bright, polished, open and bold.
What's your standard workflow when doing real estate photography, from arrival at the location through to delivery of the images?
Once initial greetings are over, I take a tour of the home/space with to determine which shots are to be taken. Taking the shots is the next step. It is essential to stage the area and make sure the area is photo shoot ready. I like to share my thoughts regarding the shot and why taking it from that angle.  I also Have the client look through the view finder before I start shooting. Ongoing conversations and communications is the key.
-Wrap up – Once all the shots have been taken, I like be sure to invite clients to view the shots. It suggests completion of the job and leaves them both comfortable with my work.
-Post processing: All images taken go trough post processing and editing
- Quality control: Once I am happy with all the editing work I like checking every single image and see it as an editorial project so I make sure all the works is revised before is delivered to the client.
- Image delivery: This being the final stage, I provide my clients with a link in which they can access and download their images.
How important is Photoshop or digital editing to your process?
Equally as important as the photoshoot. This processing software allow me to adjustments such as:
-Remove distortion
- Balance exposure.
-Neutralize color. Photos should have a neutral white balance- not too warm or too cool.
-Check for consistency. I Use a  grid view to check that all photos in the set are consistent in brightness, contrast and color balance.
-Clean it up. It allows me to Crop out awkward edges, remove dust spots, lens flare and your reflection in objects.
What do you enjoy most about photographing real estate, architecture and the built environment?
I love capturing the essence and unique stories of a space. Every home and space I photograph is unique, and it reflects that there is a personality and authenticity to each place.
What has been the most memorable photo shoot you've ever done?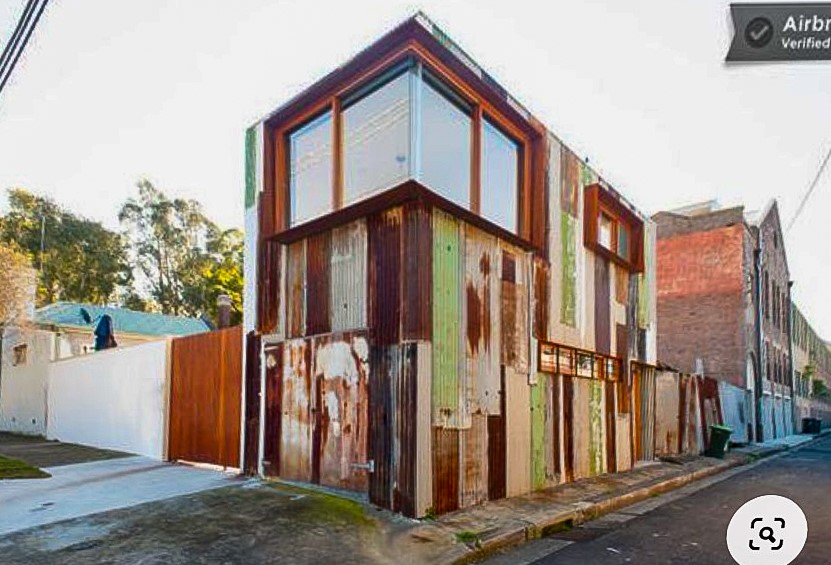 One of the first shoots I ever did was an architecturally designed home. It was a converted tin shed and became one of the most popular listing on Airbnb in Sydney. At the time I was just starting to get into interior/real estate photography and had no idea what was going to be ahead of me. The shot is not great as it was early days but it certainly is memorable.
Have you ever had something really funny happen to you while photographing a home?
One day I was assigned to photograph an Airbnb apartment and was given the key to access the property as it was supposed to be vacant. When I opened the door, I found a person having a snooze on the sofa, I had to wake this individual as I had not clue who she was. She opened her eyes, said sorry and left the apartment without saying a word.
What advice would you give to someone in Sydney who was selling their home?
I would emphasise the importance of presenting their home at its best. A home that presents well will attract more interest. Secondly, to prioritize high quality and professional image. As they say, and image is worth a thousand words.
What do you like to do away from work?
If I am not taking photos or editing, I love playing guitar, watching independent films or reading a great novel. I also love indoor climbing, camping and travelling.
Testimonials for Love Space Photography in Sydney:
"Estefania and her team have been a dream to work with. They're super easy to communicate with and are always willing to go the extra mile to ensure everything goes perfectly for the shoot. I'm especially grateful that Estefania was able to organise a shoot on really short notice for one of our nightmare clients. Thanks again!"Emily R
"I have worked with Estefania on a couple of different projects now and she has proven to be a very high quality, talented photographer. In addition to following the brief and producing fantastic work, Estefania is very easy to work with, is punctual to jobs and provides the finished photographs in a timely manner. She is also very good at editing photos. I would highly recommended Estefania." Andrew Rigby
"Estefania was so professional and easy to work with. Her photos were exactly what I was after and she knew the best way to highlight the best features of my apartment. I would happily recommend her to anyone who needs Airbnb photography."Megan M.
"Estefania was great. She was prompt and helpful in her communications. She guided us through the process and the images were great! Would definitely recommend for property photos."Christie P.
"Estefania was punctual, professional and great to deal with. Above all her work was fantastic! I would highly recommend Estefania for photography work."Andrew R.
"Estefania went above and beyond to shoot and edit photos of my terrace house for Airbnb purposes, which look absolutely amazing. She was incredibly professional, knowledgeable and over delivered in all areas (quality, time, number of photos). I would not hesitate to use her services again and encourage you to do the same. You won't be disappointed!"Laura M.
"Having worked with quite a number of photographers, my standards when it comes to any shoot are fairly high. Estefania is a talented photographer with an amazing work ethic who continued to work hard so as to ensure the job was completed to my satisfaction which it was. Using her savvy photoshop skills, untidy electrical cords were removed and the lighting adjusted to present the best image possible. I would be only too happy to collaborate with her again and recommend her to anyone looking to hire a photographer. Thanks so much Estefania! Five stars."Izzy R.
"Highly recommend Estefania for professional photography! Estefania exceeded our expectations on delivery of this job for our client. She is extremely professional to work with, understood the job requirements, provided a professional company representation with our client, fast delivery of photos, great person to deal with in general :)"Ayesha Q.
"She did an awesome job with details focused professional skills and can-do spirit with real patience. She gave a lot of help when shooting the images as well as many pro advice. Also not to mention she helped us working on the images for post processing with real focus on detail and willingness to help. An absolute must hire! 5 star recommend!!"Hans W.
REAL ESTATE PHOTOGRAPHY
ARCHITECTURAL PHOTOGRAPHY
FLOOR PLANS
PHOTOGRAPHY POST-PRODUCTION
PLAYING GUITAR
Born in Colombia and now based in Sydney, Estefania is an artist with a BA in Visual Arts and Design and a Certificate IV in photo imaging. Estefania has years of experience as a interior photographer working and producing professional images for clients such as Airbnb, Mcgrath, Ray White and several agencies and small business. Her specialties include interior, architecture, portraiture and lifestyle photography.