Birmingham Alabama real estate photographers: Central Alabama Photography and Video
---
Joe Morales from Central Alabama Photography and Video located in Jasper, Alabama has been doing real estate photography for over 5 years. Prior to focusing specifically on real estate photography, I did lifestyle, product and corporate photography for the largest Class B motorhome manufacturer in North America for 9 years.
Photography:
Joe Morales loves nothing more than making his clients happy with the highest quality real estate photography available today. Combine that with our state-of-the-art marketing system that allows us to offer our clients the ability to sell their properties faster and for more money.
Where we work:
Located in Jasper, Alabama we serve the Central Alabama region covering from Huntsville down to Montgomery. We have also traveled to Eastern Mississippi for photo shoots. We travel where our clients need us.
Our ideal clients:
Real Estate Agents and Brokers
For Sale by Owner Clients
Hotels
Restaurants
Architects
Businesses
Home Builders
Insurance Companies
What areas do we cover: Central Alabama - Huntsville / Birmingham / Montgomery
---
Get in Touch with Central Alabama Photography and Video
---
If you would like to speak to Joe from Central Alabama Photography and Video in central Alabama you can call them on the phone numbers listed below, or fill in the contact form and they will get in touch with you as soon as they can.
Hours
---
Monday – Friday 8:30am - 5pm
Saturday 10am - 2pm

Sunday Closed
Weekends: Appointsments available
---
Social Media: Central Alabama Photography and Video
---
Testimonials for Central Alabama Photography and Video:
Excellent photographer that delivers 5-star product. Joe is great at following directions and provides a very simple and efficient service for his customers. Would recommend to anyone looking for quality residential or commercial real estate photography.Real estate agent
An interview with Joe Morales:
Tell us a little about yourself, Joe.
I was born and raised in New York City. I moved to Alabama from Florida and have been here almost 20 years. I have been married for 19 years and have 2 sons and 3 magnificent grandchildren. I enjoy watching my New York teams in action and have become a fan of the Crimson Tide football team. I try and hit a golf ball every now and then and my favorite vacation spot is Cancun Mexico.
How would you describe your photographic style?
My photographic style is detailed oriented. I try to get the best angles that will deliver the most information and highlights to anyone who looks at the end product. I shoot during the time of day that will provide the best natural light both indoors as well as outdoors. I love twilight photography as well, the natural colors of the sky mixed with the proper lighting of the property being photographed can make for some magical results.
What's your standard workflow when doing real estate photography, from arrival at the location through to delivery of the images?
Prior to my arrival for a photography shoot, I will have sent a form to the client asking if there are any specialty areas or specific highlights that they would like included in the session. Upon arrival, I will meet with the agent or client and review those notes as and will ask if anything else needs to be addressed.
Prepping the property will include setting up the windows and their dressings, making sure all pictures and wall hangings are straight. I then will make sure that all rooms are ready to go paying close attention to the kitchen, bathrooms and any specialty rooms that the property may have.
Once I have completed all my inside work, I will then complete the outside shoot. Prior to this I will make sure that the areas around the house are clean with no garbage cans or clutter visible. I will also check the direction of the sun, so I know what angles I am going to get the best light from.
Once I am completed with the property, if the agent or client is on-site, I will let them know I am done, or I will call them and let them know.
Back at home office, the photographs and other content are reviewed, editing and any other services that have been purchased will be started.
Through my client portal, the agent or client will receive all their images and content via secure links. Normal turnaround time is 24 hours or less with few exceptions due to third party issues such as with a Zillow floorplan.
How important is Photoshop or digital editing to your process?
Proper digital editing is critical to the success of any real estate photographer. The blending of great real estate photography with a knowledgeable and reliable editing service can make or break a relationship between a photographer and his clients.
When I Look at my finished images, I ask myself this question "If this was my house would I love the photos that are going to be used to represent the property?" If the answer is "NO", then I have failed to deliver on my 100% satisfaction guarantee and that is totally unacceptable.
What do you enjoy most about photographing real estate, architecture and the built environment?
The different styles of properties are always quite intriguing. The various style of homes from ranch to modern each offer something special and as the photographer it is my job to find that secret sauce that is going to make the property pop when it is being viewed.
Same concept applies to businesses such as restaurants or hotels. Every hotel room can look the same, but they are not. I take pride in finding that special angle or perspective that will help deliver an image that will set it apart from the rest.
What has been the most memorable photo shoot you've ever done?
There are 2 that come to mind.
The first one was at Spruce Meadows in Calgary, Alberta. I was on hand doing some product and lifestyle shots when I was asked if I had time to do a shoot of the horse jumping competition that was beginning. The regular photographer was ill so I said sure I would love to. At this point I had not done a lot of sports photography, so I took a few minutes to look over some YouTube videos.
I took a couple of hundred pictures that day, but the one that still resonates with me to this day is the picture of the final rider of the day. I was battling the rain and the angle from where I was shooting from, but I must say I think it is one of the better pictures I have ever taken.
The second picture is from Dusseldorf, Germany. I was overseas taking lifestyle and product photography for an RV company. My first night in Dusseldorf I wanted to see what I could find in this gorgeous city.
I came across this area where a small canal was running through the city. It was lit up on both sides and the water was like glass. The trees, the lights and the sky just bounced off the water and the shot came out fabulous.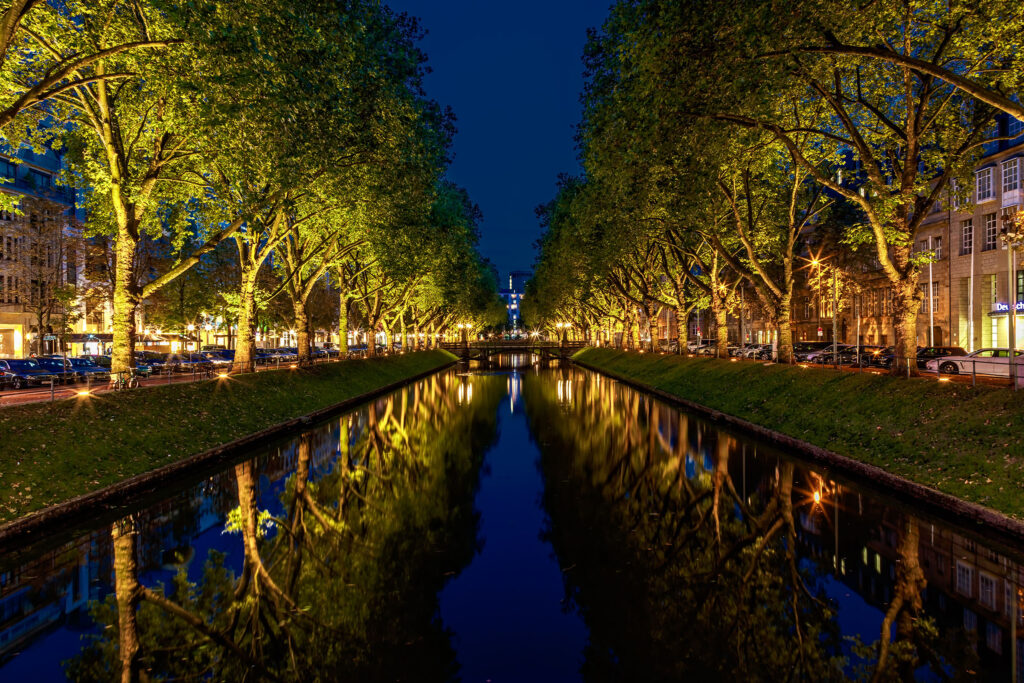 What's the funniest thing that's ever happened when you've been on a photo shoot?
I was shooting a soccer tournament and was close to the field when shooting, (that was mistake #1). As I was shooting, I was focused on a mid-field player who was moving up the pitch with the ball and did not see the opposing player who was moving into a defensive position (that was mistake #2).
When the defensive player contacted the ball, I could see it coming right at me through my lens but had no time to react. Needless to say, that ball hurts when it hits you in the head but to my credit, I didn't drop my camera.
What advice would you give to someone in central Alabama who was selling their home?
I would advise them to make sure that their agent is marketing their property to as many outlets as possible.
If your property is just going to be listed in the MLS and on one of the housing market sites, then your reach and visibility is limited.
With proper marketing which includes branded and unbranded materials, your property can be all over social media, MLS, Realtor.com, RedFin and most importantly on Zillow. Zillow has nearly 3.5 to 4 million views a day and is searched nearly 40% more than its closest competitor. With a Zillow 3D Tour and Interactive Floorplan, the clients home get priority placement and other perks from Zillow.
And finally, I would recommend that they ask their agent to use Central Alabama Photography and Video for all their real estate photography and marketing needs.
What do you like to do away from work?
I enjoy being able to Facetime with my grandchildren. They are growing up so fast and bring so much joy to my life.
I enjoy hitting a golf ball every now and then. I don't shoot for score; I just like whacking it around for a couple of hours.
I also enjoy iRacing simulation on the computer. I am a member of a league that runs one night a week. We run the Indy style cars on oval tracks. It is really a blast.
Residential and commercial ral estate photography
Drone photography and video
Floorplans
Zillow 3D Tour and interactive floorplan
Twilight photography
Joe Morales is a professional photographer with over 15 years of photography experience. Joe specializes in residential and commercial real estate photography and works with several national accounts as well as owning his own real estate photography business.
Joe uses his positive attitude and tireless energy to provide his clients with the best real estate photography and marketing services available.
Joe is inspired daily by his wife, two sons and three grandchildren. In his free time, Joe likes to golf, watch his New York sports teams and gets in a little iRacing on the computer.