When it comes to marketing a home for sale, the photography is of utmost importance, and can have a significant impact upon the sale price and the time on market. As an article in Forbes magazine put it:
Imagine the photo shoots retailers and catalog companies do to showcase their products. Would they release a catalog with photos of stained living room furniture or with improper lighting? Of course not — and neither should a seller. A home is a product for sale, just like any other, and should be marketed as such.
However, is it better to book a twilight shoot or a daytime shoot?
Here's a comparison for you to compare. Now obviously every home will be different, but in this example we have a daytime photo of the exterior of this home: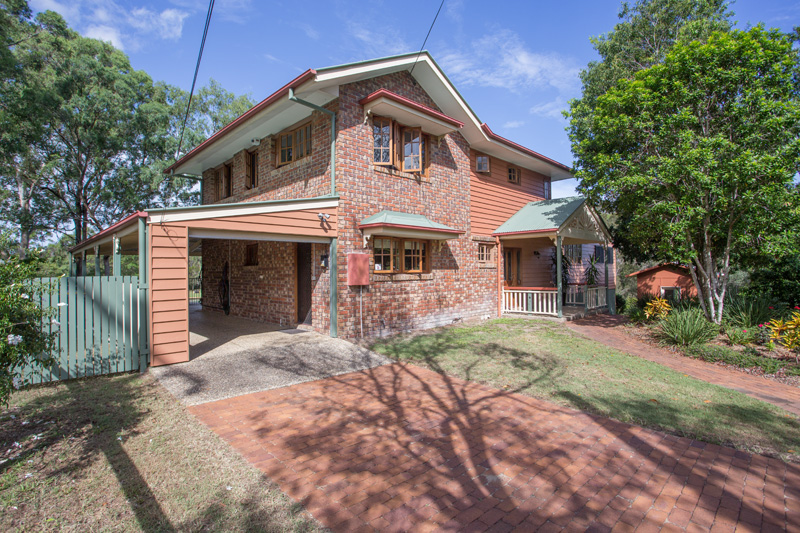 … and here is a twilight photo of the same property: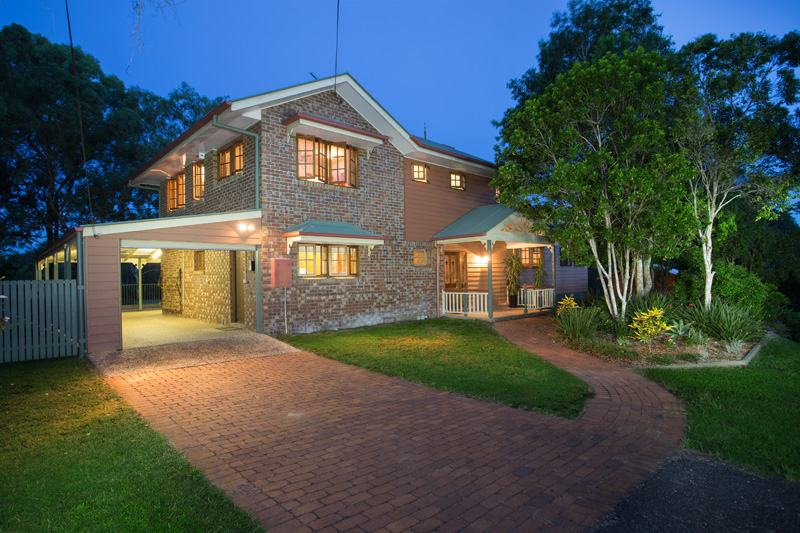 As you can see, the daytime photo is very good, but the twilight photo, with its strong colors and great lighting, is going to stand out a whole lot more when competing against other homes in the same area.
So which is better – daytime or twilight? Photographer Angela Giles from Victor Harbor said:
Twilight shoots can be appealing for marketing campaigns. but daytime shoots can really bring out the warmth of the home.
A daytime shoot can work very well on a bright, sunny day, especially homes with ocean views or strong exterior colors that look great when the sun is hitting them (just be sure to book the shoot for the right time of day!).
However, most homes can benefit from a twilight real estate photo shoot. The glow of the lights inside the home, the absence of shadows from the sun, and of course a stunning sunset all combine to create a visually appealing image. As Sunshine Coast real estate photographer Jon May put it:
With the warm interior lights contrasting against the cool blues of the evening sky, a twilight photo resonates with our primordial need for shelter & protection.
Twilight shoots can also make a property stand out amongst all of the other properties for sale in their area, especially in places where daytime shoots are the norm. As Kalgoorlie real estate photographer Shane Cullen said:
For me twilights stand out so much more when buyers are looking for a property. If you are searching through 100's of listings and see one all lit up and with a beautiful sunset behind it you are more likely to click on it and view the property. For me it is in the top 3 tips for marketing a property.
A real estate photographer in Ohio, Sandy Rybka, agrees:
A twilight image of a home can really help viewers take that second look to see more of a home inside as well. If the outside is more appealing then they will have more curiosity to look at the other parts of the home.
So twilight shoots add to the appeal and beauty of a home, and perhaps that has something to do with them looking a little different. We don't often see a home all lit up like that just after sunset, and when you add in one of nature's true wonders – a beautiful sunset – then we find that hard to resist. Johanna Zolg, a real estate photographer in Warwick, Queensland, said:
Sunsets are also very appealing to a lot of people, it is one of the most featured photograph from any range of photographer. Sunsets have something calm and relaxing about them.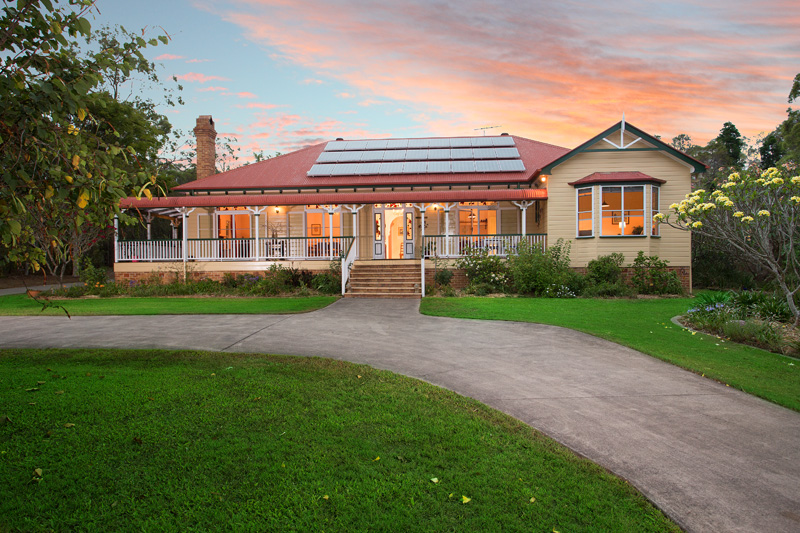 Are there times when a twilight shoot is not appropriate?
As I mentioned earlier a home with an ocean view may be better off being photographed during the day to ensure plenty of sunlight is hitting the water, and also if a home has no front windows then a twilight shot may not be appropriate because you won't have the glowing lights (unless there is a good number of exterior lights).
So just about any home will look better at twilight than it will during the day, and they will stand out in any marketing campaign, adding that extra level of glamour that can take a home from ordinary to extraordinary!
But do twilight shoots really help to sell a home?
A real estate agency in Sydney decided to test the difference between daytime professional photography and evening professional photography, and here's what they found:
"This house was track­ing at about 1,000 views in one week with about 10 call-ins. Then we changed the photo the next week (noth­ing else) to a twi­light shot. Guess what? Where views nor­mally drop off (because it is con­sidered a stale list­ing after 1 week), they picked up by approx­im­ately 50% to 1,500 views and 15 call-ins in a week when inquir­ies tra­di­tion­ally drops off."
So that's 50% more people who viewed the property, and 50% more people who contacted the selling agent to find out more about it. If you're not sure, feel free to test this yourself and compare how well a daytime photo shoot compares with the twilight photos, and see if you notice a difference. I would think that, on average, you will see a better result when using twilight photography for most homes.
What about photography prices for a twilight shoot?
A lot of professional real estate photographers will have higher fees for their twilight shoots. Due to obvious time restrictions, a photographer can only deliver one twilight shoot per day. Some people ask their real estate photography if they have other jobs to attend to after completing an evening shoot, but in most situations that just isn't possible. Once it gets dark (about 30 minutes after the sun goes down), then that's about it for the day as it just gets too dark to adequately photograph a property. This restriction on the number of shoots, and their high demand, leads to a premium price being introduced by most experienced photographers.
Frequently asked questions about twilight shoots:
Do twilight shoots help homes that have no curb appeal?
Yes, I think they can work really well in that situation, because they get the most out of what you've got. When you add in the glow of the interior lights, some nice exterior lighting, and an amazing sunset full of color and vibrance, well it's going to work well in most situations.
Why do photographers take the exterior shots so early?
When you are looking at a home with your eyes, they can look better later in the evening, some times very late. However, a camera does not have the same range to adapt to bright and dark areas, and so when photographing a home it is better to do it earlier (often 10 to 20 minutes after sunset) rather than later so that the contrast between the bright lights and the exterior of the home is not too much. If you've ever seen a photo of a house when inside looks super bright, like some kind of explosion is going on, and outside is really dark and it's hard to really see anything, then you know what I mean.
An experienced real estate photographer will know just the right time to shoot a property, given the sunset time, the direction the property faces, and the amount of lighting inside and outside a home.